For most developers, the value of Torizon, our secure and reliable Embedded Linux IoT platform, is clear when hundreds or tens of thousands of devices are involved. But what about in the development phase when there are just a few devices ?
Torizon OS: a proven productivity booster
Torizon OS is quickly becoming the go-to Linux operating system for Toradex customers, and for good reason. As a developer, Torizon OS lets you focus fully on your application. Its modern, ready-to-use development environment with Visual Studio Code supports a wide range of languages and frameworks including Qt, Python, Rust, and Slint. Torizon OS allows for easy adaptation across various hardware configurations, bypassing the complexities of the Yocto Project. If you are a Yocto expert the Torizon Yocto Reference Image with and without Docker gives you a solid starting point with most Torizon Cloud features ready to use.
But what about Torizon Cloud?
To many developers it is not clear how they can leverage Torizon Cloud in the development phase of a project. In what follows, I'll offer insights into how some of our customers are leveraging Torizon Cloud to make development both more efficient and more fun.
Do you like to work remotely?
Torizon Cloud streamlines remote work. Do you have a dev board at home and the complete device at the office? No problem. Torizon streamlines rapid deployments with delta updates, robust device monitoring, and remote access with full control. It's a game-changer for bulky or high-cost end devices and even simplifies device sharing among team members.
"Choosing Torizon has simplified our development processes and allows us to dynamically roll out software updates to our production platform and perform remote diagnostics. The secure remote update mechanism allows us to respond to customer feature requests quickly and with minimal machine downtime."
Are the demos of your sales teams failing or outdated?
Torizon's extremely simple and reliable offline and remote update features ensure your sales team can effortlessly maintain their demo units. Say good bye to outdated presentations; now, they can showcase confidently the latest features. And if they need technical assistance? Remote access and device monitoring are always there.
Is your company selling your proof of concept as an almost-ready volume product?
You might be under pressure to deliver a proof-of-concept as an almost finished product. If so, Torizon can help. Offering integrated OTA, device monitoring, and remote access, Torizon is fully production-ready, secure and reliable. And combined with Toradex System on Modules, the hardware is all set for the big stage. This eliminates the risk and the time it takes to move from a PoC to a volume product. Meanwhile, frequent, well-tested updates from Toradex keep your devices safe and reliable for years.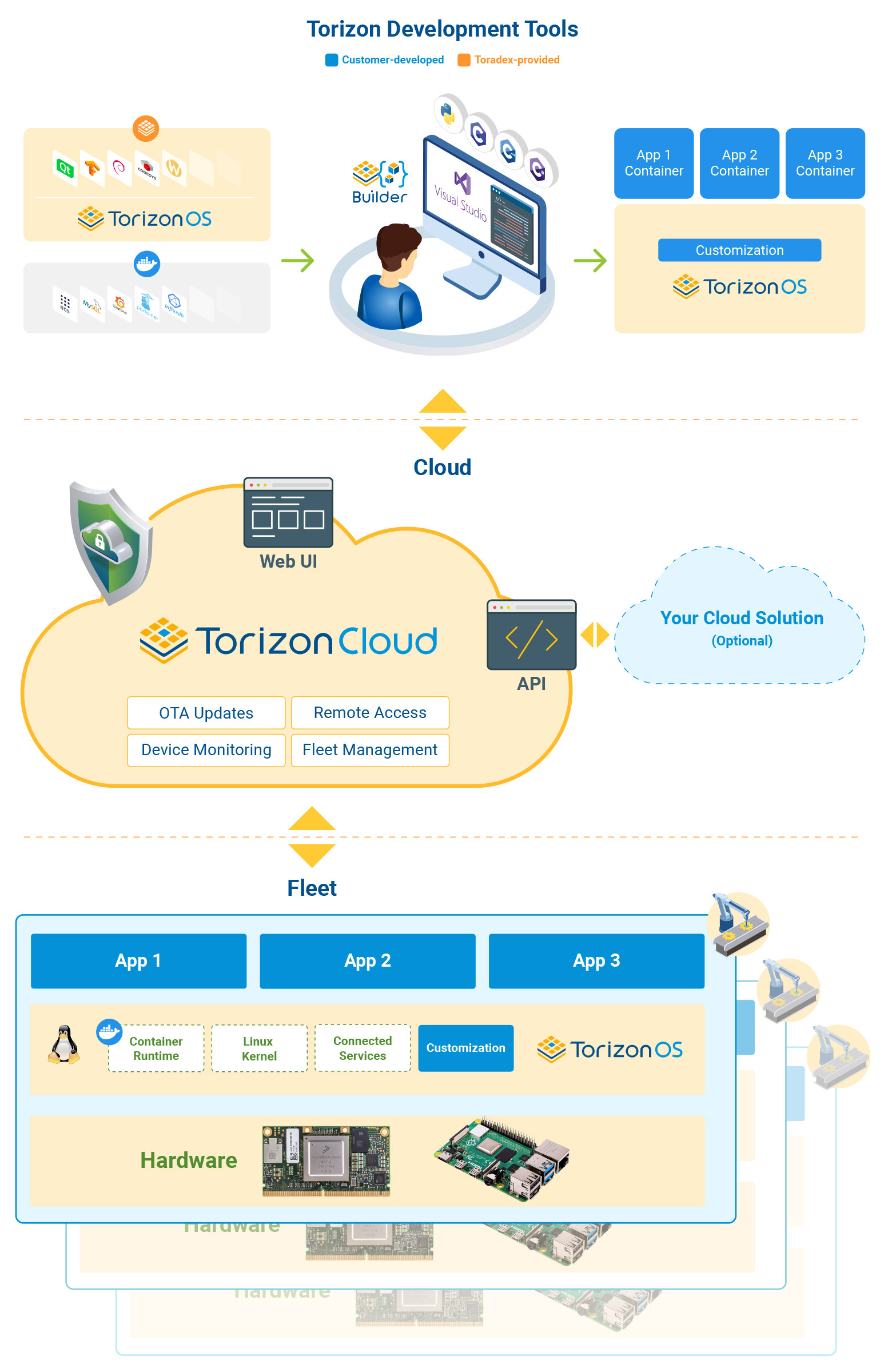 Did the latest update break your software?
With Torizon, you're never more than a click away from the latest stable OS release. This facilitates rapid diagnosis of issues and keeps everyone on the same page. If you are maintaining and customizing the OS, you can smoothly deploy it to your application developers.
Torizon API also makes it easy to integrate with CI/CD systems and fully automate the process.
Are pilot series deployment updates stressing you out?
Quickly fix issues and deploy changes in your pilot deployment using Torizon's offline and online update features. You'll no longer need to rely on your customer to correctly perform a multi-step process – their side of the process is foolproof. Identify potential issues early with device monitoring and investigate them further using secure remote access. Reduce time to fix and accelerate feature iterations.
If you'd like to learn more about how Torizon Cloud can refine your development process, we're here to help.
Reach out to schedule a personalized consultation.